true
SALEABLE ITEM TAG
RAYON BOWLING SHIRT
RemarksJoe McCoy
About
From Joe McCoy Sportswear, the RAYON BOWLING SHIRT / JOLLY ROGER celebrates the style and creativity of bowling shirts seen across alleys in 1950s USA.
This model has been faithfully reproduced with a specially manufactured rayon cloth to achieve the relaxed drape commonly seen in bowling team archive images from the 50s, a finish achievable only with a fabric as dense as our bespoke designed Rayon which has been improved from the type used in the 50s to control shrinkage.
While early bowling shirts were traditionally made from a gabardine cloth and more commonly cut with a long sleeve, the 1950s saw the emergence of bowling as a competitive sport in the USA, with amateur teams creating unique uniforms to perform in. With the need for a fabric that was less heat absorbent and naturally breathable, rayon emerged as the ideal choice, *striking* the perfect balance between style and function
With the benefit of the comfortable rayon fabric and a loose-fitting cut, the bowling shirt has become known for its boxy shape and two-tone design.
The kitsch appeal of the Bowling Shirt meant it would soon be appreciated outside of the lanes and adopted by Rock & Rollers, and later seen in Ska culture.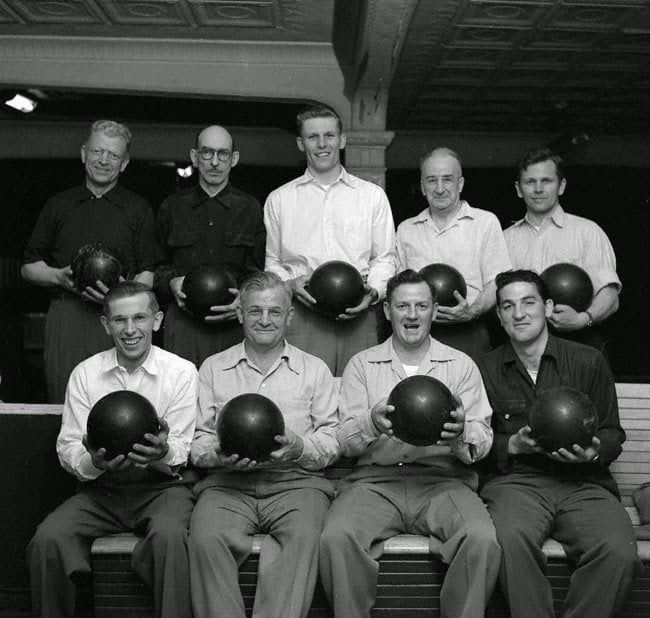 100% Custom Rayon cloth
Camp Collar
Bowling Pin Button Closure
Made in Japan